Junior Hurling North Final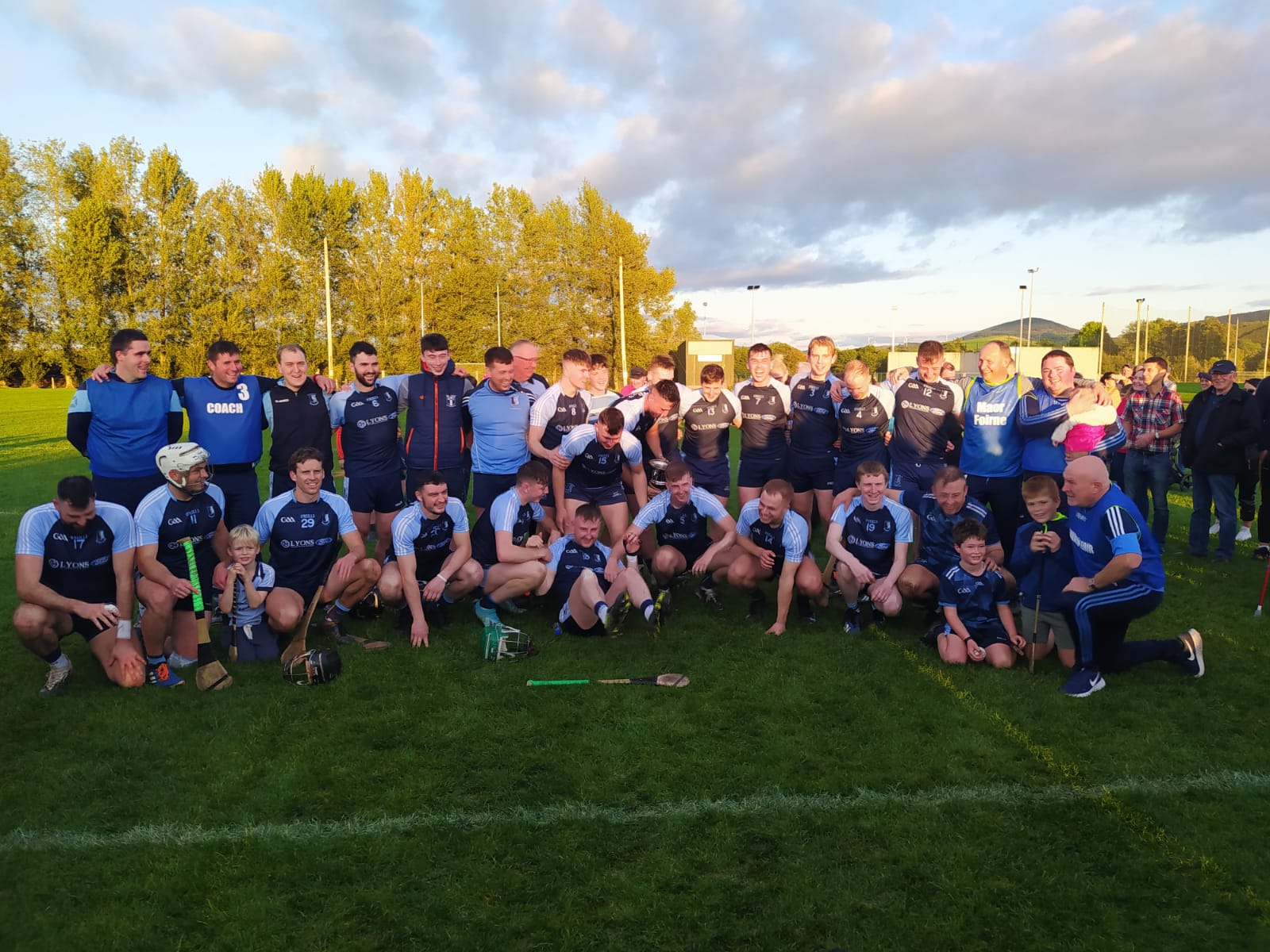 Junior A panel and management following the North Final last Saturday in Dolla.
Well done to our Junior A hurlers who claimed the North title on Saturday evening last in Dolla. Following another fine performance the boys beat Borrisoleigh on a scoreline 1-22 to 3-12 with Billy Moran scoring our goal. After losing out in the last two North finals this was a great win for this group and richly deserved. Well done to all the panel and to the management team. The boys have a break now for a few weeks before the Co semi final, opposition and fixture to be confirmed.
David Minogue, a member of the Junior A management team, showing the Michael Cahill Cup to his daughter Caoimhe following the North Final win last weekend.
Lotto
There was no winner of Monday night's lotto jackpot. The numbers drawn were 4, 12, 14 & 16.
The 3 X €50 lucky dip winners this week are:
Breda Conroy
Donagh & Rian Lillis
Linda Carew
Next week's lotto jackpot will be €7,300, thanks to everyone for supporting our lotto each week. To join please play on the link on the club website.
With our lotto being suspended on two occasions in the last sixteen months because of Covid, we have now reached the end of the first 52 weeks of our relaunched lotto with the Jackpot rising from €2,100 to €7,300 in this time.
We thank all those who have suppored our lotto in this 12 months and we are delighted to see our sales growing, in particular our online sales. Those who opted for the 52 week option will now have their ticket automatically renewed if the auto renew option was chosen at the time. If not you can now rejoin through the link below:
https://play.clubforce.com/play_newa.asp?ll_id=292#Anchor
Lotto Donation
As part of our Community Lotto, we recently donated €500 to the Children's Ark Unit in University Hospital Limerick. This €500 donation was added to the €1000 raised in the swap shop which the Juvenile and Camogie Clubs ran during the summer. Josephine Mackey, Club Treasurer, and Deirdre Ní Loinsigh from the camogie club recently presented the cheque for €1500 to Gráinne Beattie. Well done to all involved.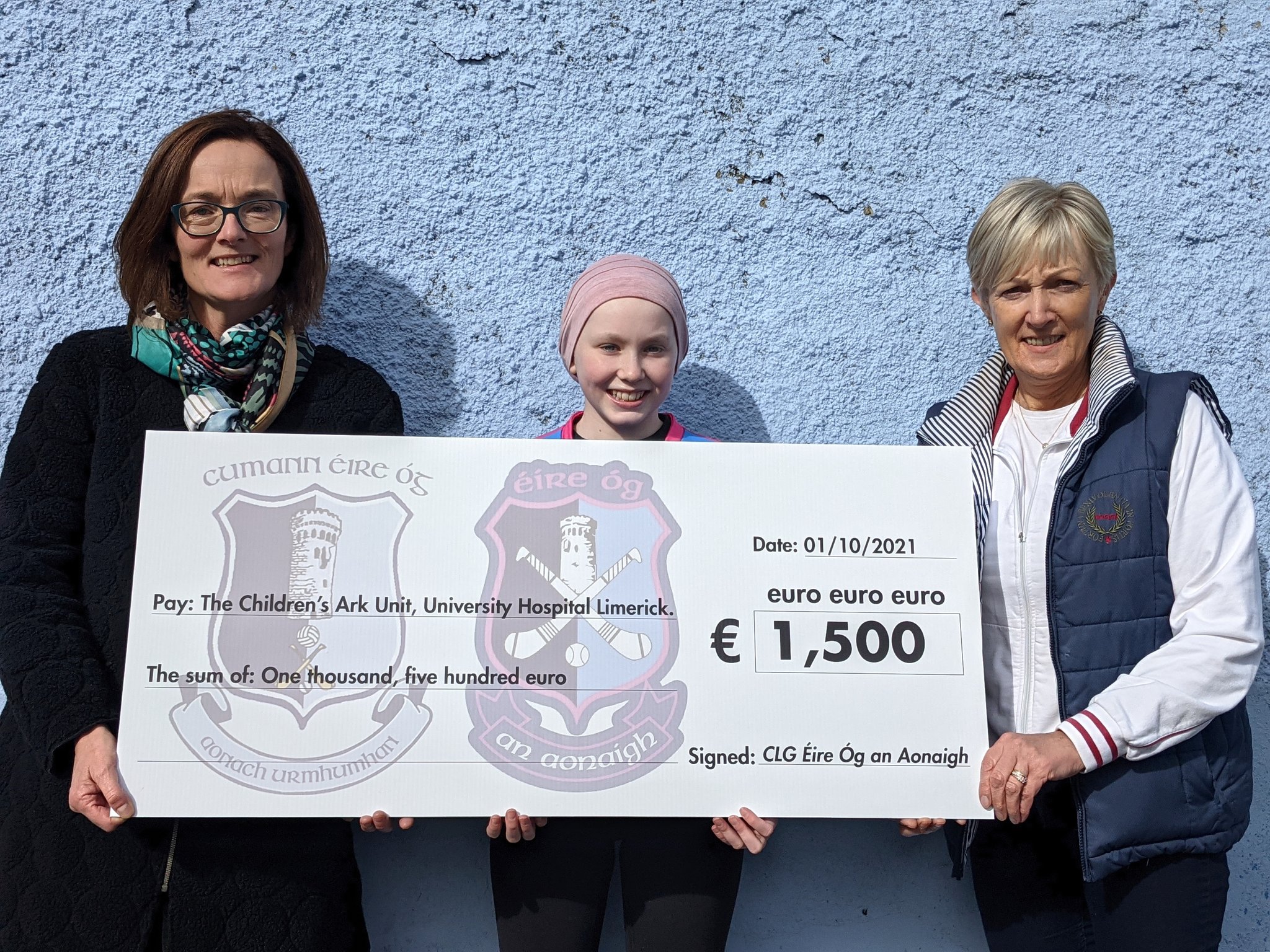 Deirdre Ní Loinsigh and Josephine Mackey presenting the cheque to Gráinne Beattie
Tipperary Draw
Congrats to Joe Ryan, Whiskey Still, who won €200 in the first draw of the 2021/22 Tipperary Draw which took place last Friday night.
Thanks to everyone for supporting the draw again this year and thanks to Marion and Bartley Ryan and all our promoters who worked very hard over the past number of weeks to maintain our high numbers in this draw. The next draw will take place on 5th Nov.
Timber/Turf Auction
The club will be holding a timber and turf auction in the coming weeks. If anyone has timber available for this please contact Shane Hennessy at 087 1387410.
JUVENILE NEWS
Under 9
Mid week training sessions for this group are finished for this season. We plan to continue Saturday morning training or matches until the end of the month at which point we will have some end of season fun to close out a superb year. We are playing Dúrlas Óg in Thurles on Saturday morning next.
We continue to concentrate on Gaelic football only for the next week in preparation for the upcoming Michael Hogan tournament next weekend.
Under 11
We look forward to using the new hurling wall and astro turf over the next few months. New members welcome, if anybody wishes to start they can contact us on 0874086439 or through the club social media pages.
Under 13
Our Under 13D team were defeated by Holycross on Sunday last in the County final. Commiserations to the boys and their management group. It was a really exciting and successful season for the boys who kept their supporters enthralled right up to the final whistle each match. More great days ahead for these hurlers in the future.
U13D squad who played in the Co Final last weekend.
Club Development
Work on the new hurling wall is almost complete and it looks amazing. Please remember to stay off the astro until the final works are completed. Everyone will be notified when the hurling wall and astro are available for use by club members.
Any remaining donations can be paid over to your fundraising representative. Any remaining tax forms associated with your donation should be given to your fundraising representative along with detail of the names you wish to have included on the club development jigsaw wall.
Lotto
The lotto has always been one of our main fundraisers and with our current club developments it is of great importance to us now that everyone continues to row in behind our lotto and we continue to increase the Nenagh Éire Óg online club lotto subscriptions. We are asking our juvenile families and supporters to play our club lotto online. It costs just €2 per week to play safely online and there are different payment plans available. If your not in, you cant win! The Jackpot is now at an attractive €7,200.
Please choose the 'auto-renew' option and also help family members who may not have an online presence to join. The link to join is available on the clubs web page so please sign up now and you will be included in the next draw.
CAMOGIE NEWS
Seniors
The Senior team travelled to Cashel on Saturday afternoon for the last round of the group games in the Championship. Despite missing some key players and the concession of a first minute goal the girls battled hard. At half time Nenagh trailed Cashel by 6 points. With 6 minutes remaining however, Nenagh found themselves ahead by 2 points after a supreme team effort. Unfortunately they could not hold out and were beaten by 2 points at final whistle. Final score Cashel 1-18 Nenagh Eire Og 3 -9. Scorers for Nenagh were Grace O'Brien 1- 7, Maeve Coffey 1-1, Caroline Browne 1- 0, Zoey Gratton 0- 1 . This squad continues to improve and as we enter the knockout stages, hope to cause a surprise or two before the season finishes.
Nenagh will meet Annacarty in the Senior Championship Quarter Final next Saturday 16th at 3.00 o clock in Annacarty.
Under 15s
We played our first u15 league game in Portroe Saturday morning last. A great effort from all the girls and some fine hurling for this time of year made it a winning start to this competition for the Nenagh girls. Next up is a home game v Silvermines next Sunday. Training continues at 7pm on Monday evening on the new AstroTurf pitch.

Under 12s
Under 12 training resumes Monday 6-7pm on the new AstroTurf pitch. We hope to see everyone there.
Under 10s
U10's training continues on Thursday evenings from 6 to 7 on our fantastic new hurling wall and astro pitch. New girls always welcome to give Camogie a try.
Under 8s
under 8s born in 2013 are going invited to join up with the Under 10s at the hurling wall for the next few weeks before the season draws to a close.
Under 6s
Training for Under 6s is now over for the season. Thanks to Paul Ryan and Deirdre McDonnell for coordinating the sessions this year.
U6 girls following their final training session last week.
Condolences
Nenagh Éire Óg wishes to express its deepest sympathy to Mary Duggan and family on the passing of Mary's mother Margaret Cullen, late of Harpur's Lane, Portlaoise. May she rest in peace.